What Are the Benefits of Ultherapy?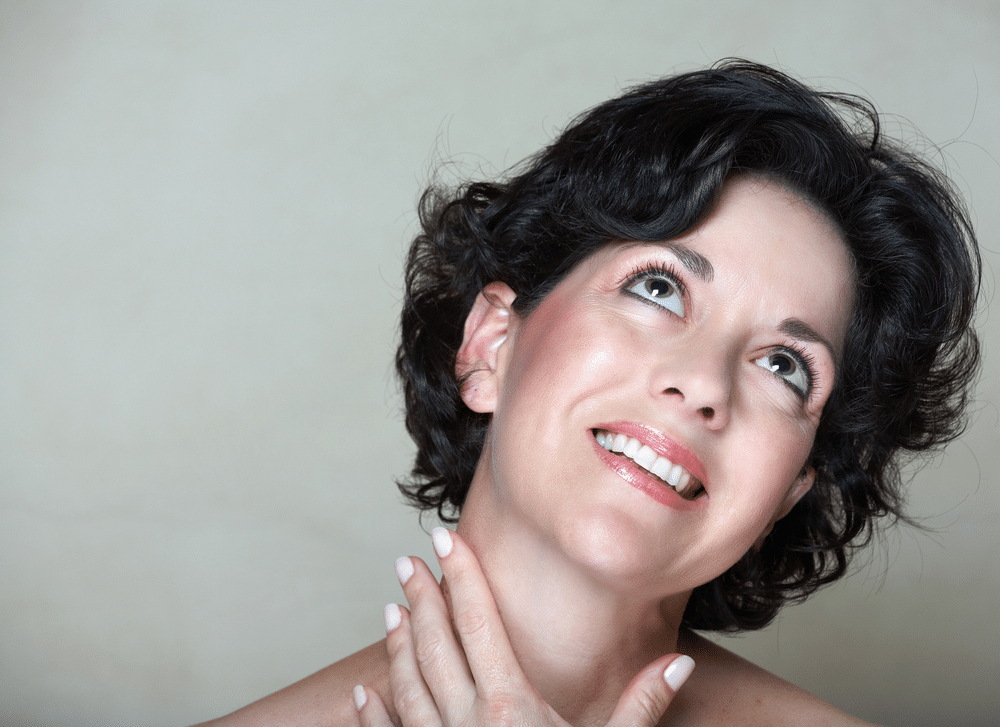 As people age, the skin may sag and develop fine lines, folds, and wrinkles. Several different invasive and non-invasive treatments are available for tightening sagging and wrinkled skin. Advanced Life Clinic in Huntsville, Alabama offers many different treatments for sagging and wrinkled skin, including Ultherapy, a non-invasive skin tightening treatment that helps the skin regenerate collagen and elastin.
What Is Ultherapy?
This treatment uses ultrasound technology to help lift the sagging skin of the face, neck, chest, and brow. It can also improve the appearance of lines and wrinkles in these areas.
The ultrasound energy can be used to help visualize the dermal layers that are deep below the skin. This helps the treatment provider administer the ultrasound energy and distribute the resulting heat with a very high level of precision that other non-surgical, non-invasive therapies cannot achieve. The energy given to the cells heats them to a specific temperature which then stimulates both collagen and elastin production in the skin.
What Are the Benefits?
It Can Improve the Appearance of Wrinkles
The ultrasound energy that is delivered into the underlying dermal layers helps heat the cells. This higher temperature will encourage the cells to produce more collagen and elastin which will help minimize the appearance of wrinkles and fine lines as well as tighten the skin. This treatment most often targets the skin in the face, neck, and chest. However, it can also be used for the area under the chin and around the eyebrows.
What Causes Wrinkles?
As people age, their body is unable to produce the amount of collagen and elastin it needs to keep wrinkles and sagging skin at bay. Collagen and elastin help give the skin its strength, ability to bounce back, plumpness, and structure. When there is not enough collagen or elastin present in the skin, it becomes weaker and less elastic. The skin can start to sag and fold in on itself, resulting in dropping, loose skin as well as wrinkles and fine lines.
Age and genetics are a primary cause behind wrinkles and skin laxity. However, exposure to ultraviolet light through the sun's rays breaks down the collagen and elastin fibers in the skin at an even faster rate than normal which can result in more wrinkles and sagging. Similarly, pollutants and smoking can speed up the skin's aging process and result in an increase in wrinkles and sagging skin.
Additionally, repeatedly performing movements like smiling, squinting, or frowning can result in facial wrinkles. These movements create dynamic wrinkles that will disappear once the facial movement has ended when people are younger. However, as they grow older and the skin starts to lose its elasticity, it can no longer bounce back as easily so the dynamic wrinkles start to become permanent.
It Can Result In Firmer Skin
Thanks to the way the heat provided by the ultrasound therapy stimulates elastin and collagen production in the body, this treatment can result in firmer skin. The increase in elastin and collagen in the targeted areas helps the skin tighten and return to its original structure before it started sagging.
It Has Been Cleared by the FDA
This treatment has been cleared by the U.S. Food and Drug Administration for noninvasive use in the neck and submental area, as a non-invasive eyebrow lift, and to help improve the appearance of any lines or wrinkles in the d?colletage area. The FDA is in charge of regulating human drugs and biologics, medical devices, animal drugs, food, electronic products that emit radiation, and cosmetics in order to protect public health.
Receiving FDA clearance means that the agency has decided that the benefits of using ultrasound energy in these areas of the body to treat skin laxity and wrinkles outweighs any risks.
It Is the Only Treatment Cleared by the FDA to Treat the D?colletage Area
Ultherapy is the only treatment FDA-cleared to improve the fine lines and wrinkles in the d?colletage, or the part of a woman's upper chest area that is visible when she is wearing clothing with low-cut necklines.
It Is a Non-Invasive Treatment
This treatment is considered non-invasive. This means that anyone who chooses to undergo this treatment will face a reduced risk of complications, no scarring, and minimal downtime compared to the people who undergo surgery or more invasive treatment options to reduce their wrinkles.
Even though this treatment is considered non-invasive, that does not mean that it is ineffective. Ultherapy is very effective and has won several awards including NewBeauty's Best Skin Tightening Treatment Award twice, NewBeauty's Best Non-Surgical Skin Tightener Award twice, Aesthetic Industry Awards' Aesthetic Winner, NewBeauty's Tried-and-True Skin Tightener Award, and Aesthetic Everything's Diamond Crystal Award.
It Goes Deeper Than Many Other Non-Invasive Treatments
The ultrasound energy used in this treatment can go deeper than other non-invasive treatments in order to stimulate the collagen and elastin in the deeper layers of skin tissue. For example, most laser treatments can only penetrate the skin to a certain point, which means they will only be able to treat superficial skin and they are not FDA-cleared to lift the skin in the way that this treatment can.
It Does Not Require General Anesthesia and Is Not Painful
Other treatments for sagging and wrinkled skin like facelifts or neck lifts often require general anesthesia which can come with several risks. General anesthesia strains the body and can cause several unpleasant side effects like nausea, vomiting, sore throats, dizziness, headaches, blood pressure changes, pain, or allergic reactions. Additionally, some people may have a higher risk associated with receiving general anesthesia, such as those with diabetes, high blood pressure, heart disease, kidney problems, lung conditions, seizures, or obstructive sleep apnea.
Fortunately, this treatment does not require general anesthesia as no incisions need to be made. Some people may choose to have a topical numbing cream applied to the area before receiving treatment for their own comfort and peace of mind. However, many people will not need numbing cream as they may simply feel a little heat and a tingling sensation during their treatment.
It Does Not Require Much Preparation
Other treatments that work to tighten the skin to reduce sagging and the appearance of wrinkles and fine lines may be accompanied by a strict pre-treatment regimen. This can require following certain diet restrictions, not eating, smoking, or drinking anything the night before, or not shaving as well as many other restrictions.
With Ultherapy, there are not many restrictions or steps to take in order to prepare for the treatment. Before the ultherapy treatment, people may continue to eat, drink, work, and exercise as they normally would. However, if they wear makeup or apply other skin care products to the area that will be treated, they should remove them before receiving the treatment.
It Is a Relatively Quick Treatment Process
This ultrasound therapy treatment generally takes between thirty and ninety minutes, depending on which areas are being treated. If the chest is being treated, it will usually take around thirty minutes. If the face or neck are being treated, it might take between sixty and ninety minutes. However, even the longer treatments are short in comparison to the powerful, long-lasting results.
During this ultherapy treatment, a professional will clean the target treatment area to ensure there is not any oil or residue left on the skin. Then ultrasound gel will be applied and the Ultherapy device will be placed on the skin and adjusted to the right settings. This will allow the medical professional to see the layers of tissue before delivering the energy to the cells. The cells will be heated to a certain temperature that will help them generate collagen and elastin.
It Is Very Specific and Customizable
Because the ultrasound technology allows for ultrasound imaging, treatment providers are able to actually see the layers of tissue they are treating. This allows them to deliver the treatment energy to the exact places it is needed the most so people can experience the full benefits of Ultherapy. It can specifically target the areas that suffer from wrinkles or sagging the most which make it a treatment that can be customized at a very high level to each individual.
It Requires Minimal to No Downtime
Following this relatively quick treatment, there is minimal to no downtime. Most people do not have any downtime and can continue working, exercising, or socializing immediately after their treatment. Receiving this treatment will not drastically interfere with people's lives or force them into taking time out of their busy lives to recover like other more invasive treatments might.
It Does Not Have Any Post-Treatment Skin Care Requirements
Another benefit to receiving this treatment is that there are not any post-treatment skincare regimens to follow. However, it is best to continue to practice healthy skin habits like wearing sunscreen, staying hydrated, and continuing to eat healthy foods.
It Produces Natural-Looking Results
After receiving this treatment, people's skin will look natural. The ultrasound technology stimulates collagen and elastin production, which is a very natural process in the body.
Because the body's production of collagen and elastin is natural and will occur over a few months, people will not suddenly, unnaturally look better. Others will not know that they have undergone treatment for their wrinkles or sagging skin because the results will appear gradually.
It Produces Long-Lasting Results
The full results can usually be seen two to three months after the treatment, though most people will see some results long before then. They can then last for up to a year or longer, depending on the person's natural aging process. Having a touch-up treatment each year can help ensure that the skin continues to look youthful even as the natural aging process continues.
It Usually Requires Just One Initial Treatment
Most people who receive this treatment only need one treatment to achieve the results they would like. However, some may benefit from having more than one treatment if they have deep wrinkles or very lax skin or a slow biological response and the collagen-building process.
Find Out More
If you would like to find out more, contact us at Advanced Life Clinic in Huntsville, Alabama! Our team of professionals will provide high-quality care using our state-of-the-art treatments and equipment. We will be happy to help you decide if this treatmetnt is the right choice for you. Advanced Life Clinic also offers laser-based treatments, injectables, peels, microneedling, and rejuvenation treatments in addition to a variety of other treatments to enhance your skin and the quality of your life! Schedule a consultation with us to see what we can do for you and your skin.