Save on treatments to get ready for summer!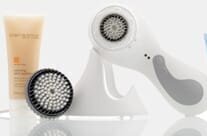 Spring is here and warm weather is coming–honest, so swimsuit season can't be far behind! The Advanced Life Clinic has the most advanced and state of the art procedures for non-invasive aesthetic procedures, body sculpting, weight loss, skin care and wellness. Let us develop a plan to get you ready for hot fun in the summertime!
This month, we're pleased to offer super savings on laser hair removal, Clarasonics, photo facials and more. Read on for details.
Unwanted hair? Get it out of there!
This month we have a perfect price on our underarm laser hair removal treatments just in team for the higher temps. Now through the end of April, we are offering a $99 special on underarm laser hair removal. Forget shaving and don't worry about the shadow when you are wearing your summer clothes. Laser hair removal can eliminate the need for shaving and give you a smooth fresh look for the summer season!
Clean skin is healthy skin
Help improve and maintain your skin with a Clarasonic cleansing brush. We have several colors and styles to choose from and for the month of April they are all 20% off!
Speaking of healthy skin…
Sunscreen is a must and should be part of your daily skincare routine. With the sun season upon us, now is the perfect time to stock up on our great sunscreens from all of our vendors. All are 20% off now through the end of April.
Get picture perfect!
There is no better way to get rid of sun damage than with a Photo Facial using IPL. During the month of April, you can get $100 off (normal $400) a full-face Photo Facial here at the Advanced Life Clinic. We'll also help you keep that great complexion with a FREE Elta MD sunscreen with the purchase of your Photo Facial.
Shed the pounds
With winter coming to a close and swimsuit season just around the corner, now is the time to restart your weight loss journey at the Advanced Life Clinic. We have several options for you to choose from and even customized plans to fit your goals and needs. And to help out, all restarts on our weight loss programs will receive a FREE Super B12 shot to kickstart your weight loss. Just call us at (256) 882-6555 to come back so you can get into those clothes and swimsuits!
As always, we invite you to enjoy our fantastic monthly events such as Bonnie's Peel Party, scheduled for April 30. All peels are $100 (Reg. $125) plus everyone who gets a peel also receives 20% off of gloMineral products. Wrinkle-Free Wednesday is April 10 and ALL Botox and Dysport will be 10% off!
Warmly,
Dr. DeGraff and the staff at Advanced Life Clinic