Maintain your weight loss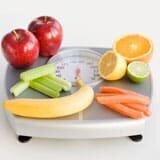 Lost weight and feeling and looking great? Today we are going to discuss how to maintain your weight loss.
Weigh In
First, it's helpful to realize that there is no method of permanent weight loss. You have to be "on your guard" for the rest of your life. Bad habits and willpower will slip over time and gradual weight gain is inevitable if you are not weighing yourself frequently. I recommend bi-weekly weighing after your complete a diet plan. Let's say you lost forty pounds, going from 190 to 150 to reach your ideal body weight. If you weigh yourself and you have regained six to eight pounds of that weight back, then you need to hear the warning sirens in your head.
No-No Number
We call this the No-No number and in this example the patient would need to restart a diet if her weight reached 158 pounds. Set a number in your head that if reached, you will start back on your diet plan. Another thing we tell our patients is that it is a lot easier to lose 10 pounds than it is to have to keep re-losing the same 40 pounds over and over again.
Maintain, Don't Gain
It is also important to maintain a relationship with the clinic or program that helped you lose the weight. You must continue the diet, exercise habits and lifestyle changes that you learned as part of your weight loss program but we know that holidays, vacations and special occasions can make that difficult. That's why you shouldn't walk out the door on your last visit and think you'll never return. Don't be afraid to come back for a quick "tune-up" if you've gained back some weight. This may require that you be on your diet program one or two times a year to maintain your goal weight.
New Weapons to Fight Fat
There are also now two new FDA approved medications, Qsymia and Belviq, that are actually approved for weight maintenance and not just weight loss. These medications would be tapered to the lowest dose needed to maintain you goal weight and then stay on the medication indefinitely. Prior to this, obesity was the only disease where once you reached your goal, the medication was stopped. Imagine going on a diabetes medication and reaching your proper glucose level and then having your doctor say. "OK, we are stopping your medication now!" The addition of these two medications is a major advancement in the treatment of obesity and definitely something all patients should consider who have difficulty maintaining their goal weight.
Bottom Line
The struggle to maintain weight is permanent. Weigh yourself often. Establish your NO-NO number. Maintain a relationship with your program or clinic and don't hesitate to call, we are here to help. Consider one of the new weight maintenance drugs for long term weight maintenance.
Warmly,
Dr. DeGraaff and the staff at Advanced Life Clinic