Let's talk turkey: top tips for staying on track this Thanksgiving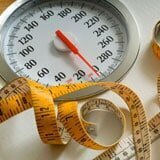 Let's talk turkey; Thanksgiving is tomorrow and most people are pondering the important things. What am I going to eat and what am I going to eat? For those of us watching our weight, the holidays can be a challenge. Today I am going to share my top five Thanksgiving dieting tips.
1. Eat breakfast
Doctors often say that breakfast is the most important meal of the day and it is. Eat a high protein/high fiber breakfast that will stay in your stomach, keeping you fuller longer so you wont overeat later in the day. Starting the day off with a healthy breakfast provides a jump start for your metabolism. Delaying eating actually slows down your metabolism so that the calories you eat get stored as fat more readily.
2. Use fat-free or light ingredients whenever possible
Choose fat-free chicken broth, sugar substitutes, reduced fat butter and oils. Try a fat-free yogurt to sub for sour cream. Most people will never taste the difference. Honest.
3. Perfect portions
Survey the table before you fill your plate and choose wisely. Select dishes that are special that you don't get any other time of the year. Take small portions of these. Fill your plate with the leaner, less fatty dishes such as turkey and plain or roasted veggies. Skip seconds.
4. Eat slowly
It takes your brain between 15 and 20 minutes to signal you are full. The less you eat that first few minutes, the less calories you will consume overall.
5. Relax and celebrate
The holidays should be more about enjoying family time than very strict calorie counting. Focus more on weight maintenance than losing weight. If you don't gain 10 pounds over the holidays, that's 10 pounds you wont have to lose in January!
Some other tips?
Dessert choices should be pumpkin or sweet potato pie rather than cream pies and cakes. With dessert, serve fat or calorie free whipped toppings and ice cream.
Turkey is high protein and low fat unless fried.
Mashed potatoes, with no gravy, are actually better than the casseroles.
Ham and other meat choices are also generally a safe bet.
Get moving; take a walk before dessert, play some football with the family. Choose an activity to burn off some of those treats.
My staff and I wish you and yours a safe, happy and healthy Thanksgiving!
Warmly,
Dr. DeGraaff and the staff at Advanced Life Clinic