Glo Minerals: get that holiday "glo"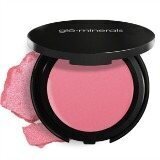 Temps are falling and calendars are filling up. With Thanksgiving less than two weeks away, the holiday season is officially here. Don't let Old Man Winter dull your complexion this year. Get GLO-geous with Glo Minerals.
Glo Minerals offer a comprehensive solution for your skincare and cosmetic needs. The high-quality, performance-driven products are scientifically formulated with pharmaceutical-grade ingredients. Nancy Finnegan, makeup artist and resident expert, shares more.
Moisture works magic
One of the most important steps to any skincare regime is moisturizer. Cooler and dryer weather has approached us and to your skin, that means change! A lot of women are needing a heavier moisturizer during this time of year. Keeping the skin hydrated also keeps your face from "eating up" your makeup; causing it to disappear throughout the day. Think of your skin as a canvas; you've got to get it prepped.
Create a flawless foundation
A complaint I often get from clients is their face looks duller in the Winter and their concealer creeps into lines under their eyes. Glo Minerals has recently come out with a great primer designed specifically for that problem. The Glo Minerals Under Eye Primer not only fills the lines and makes the concealer last, but it also has light reflective pigments to soften the appearance of lines and dark circles. Apply it with a brush for optimal coverage and since all ladies love products that do double duty; use it around lips to soften lines as well.
To add an extra glow to your face during the Winter months, try a creamier foundation that provides more coverage. The Glo Minerals Satin II Liquid Foundation offers sheer to full coverage; depending on application method. It's also packed full of amazing antioxidants including vitamins A, C, E and green tea extract.
Get cheeky
Glo Minerals Cream Blush is perfect for the Winter. The creamy formulation instantly gives you a gorgeous "glo." As a makeup artist I really like to recommend a cream blush to clients who are not comfortable with color on the cheeks. I find it to be more forgiving and easier to blend and add to or remove once applied.
Learn the art
Visit the makeup counter at the Advanced Life Clinic to view more of the Glo Mineral products and let us help you select the perfect shades for day or night. If you are interested in a free consultation and application of the product, book your appointment with me. On December 5th, I will be available to help you create a custom look to fit your needs and preferences. I would love the chance to help you "glo."
–Nancy
A gifts that "glos"

The Glo Minerals Holiday Gift Sets, $85, will be here just in time for our Holiday Open House on November 15. See you then!
Warmly,
Dr. DeGraaff and the staff at Advanced Life Clinic